Poland & Spots
BACK TO BREED LISTING
FUELED UP
[ POLAND ]
Summer Pricing:
5-13-19 to 8-11-19:
$50
Reg#: 49469001
EN-2
Stress Negative
Sire: Jackpot
Dam: Purple Rain
Bred by Stayton Farms, IL

FUELED UP was named Champion Poland Boar WPX 2018. I think Breeding Boars come from prolific sow lines. FUELED UP dam is first litter gilt was Reserve Champion Poland at 2017 Fort Worth Stock Show,Her dam is a 8th parity Make it Rain daughter that is Stayton's foundation female. I personally think FUELED UP is taylor made to put back on the Mall Cop type females. He is monster caged ,tall shouldered and extra flexible behind. He is couples that with extra stoutness of feature as well.
Mother is a 1st litter sow & the 2017 Res Poland Fort Worth Stock Show
Grandmother is the foundation 21-5 Make it Rain sow. 8th Parity Sow with 5 direct daughters in the sow lot.


21-5's winners include:
2018 Res WPX Barrow & Current ICPA Point Leader
2017 Indiana 6th Overall and Champ Poland Gilt
2017 Michigan Livestock Expo Poland Champ
2017 Res Gilt Fort Worth Stock Show
2016 5th Overall Poland Gilt OYE
2 San Antonio Class Winning gilts
click here for video
NO EXCUSES
[ SPOT ]
Summer Pricing:
5-13-19 to 8-11-19:
$50
Reg#: 166612003
EN 3-3
Stress Negative
Sire: Saving Grace
Dam: Right Kind
Raised by Amrstrong
NO EXCUSES was purchased at STC 2018. We found this boar as a changer. Super elevated and not as long bodied as most spots right now. His length of leg, cannon bone and strong pasterns, coupled with big legs and muscle while being in a negative package make this guy unique. I almost forgot to mention, he is also an outcross to Get Loud and sons. This guy gives us NO EXCUSES to make some much needed changes.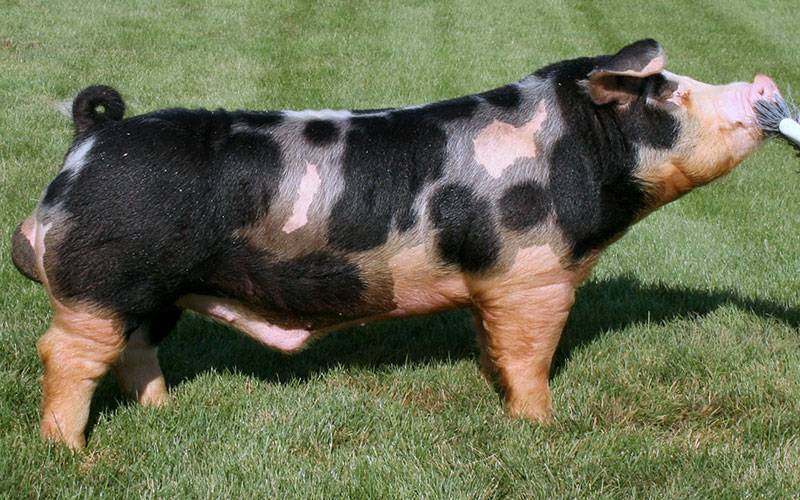 LEVERAGE
[ SPOT ]
Summer Pricing:
5-13-19 to 8-11-19:
$50
Sire: Walk the Line
Dam: Game Changer
Bred by Norman Brothers, IL
LEVERAGE was purchased off the farm before any shows in May 2018. I thought he was the best Spot boar that Greg and Grant had to offer out this group. LEVERAGES best look is on the move in his ability to travel with his long stride and staying square. He has a great look,excellent turn to his rib and a really long square hip. HE IS AN OUT CROSS PEDIGREE NO LOUD MOUTH,GET LOUD , MOMENTUM .