Hampshires
BACK TO BREED LISTING
LOOK AGAIN
Summer Pricing:
5-14-18 to 7-31-18:
$75
Reg#: 493430001
EN 7-1
Stress Negative
Sire: Booted Out
Dam: Point Maker
Bred and Owned with Seth Gilstrap
Look again is out of one powerful Hampshire sow. She has already produced the Champion Hampshire at the '16 NWSS, The champion Hampshire and Res Supreme Female at '16 Ft Worth, and the Champion Hamp Gilt at '16 San Antonio!! This youngest class winner from the STC is sired by Booted Out, and his dam raised the reserve Hamp barrow @ '14 Njss, champ Hamp and 4th overall @ '14 Indiana State Fair, and the the Res Hampshire Gilt @ '15 OYE. Two generating sows in one pedigree!! Look Again is extremely tall fronted and square built. He has great turn to his rib, massive in his center body, and has an incredible appetite. Perfect Pasterns and square toes. Clean jointed and flat bones make this one impressive and unique Hampshire boar!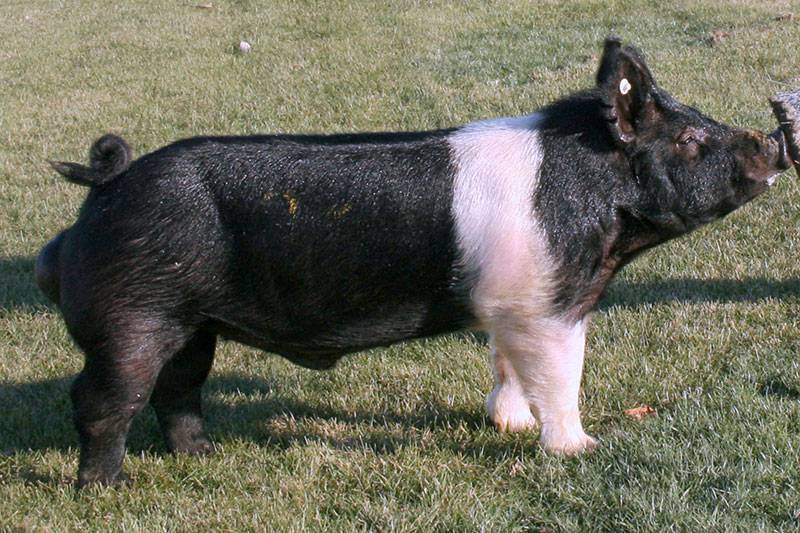 REPUTABLE
Summer Pricing:
5-14-18 to 7-31-18:
$50
Reg#: 497385009
EN 32-9
Stress Negative
Sire: Black Magic
Dam: Tiger
(littermate to the dam of Lethal)
Raised by Jim Grimm
REPUTABLE was purchased a Duncan 2017 as he was the youngest class winner.  His name Reputable is in respect to the breeder of Jim Grimm.  Hi has sold his sow herd this late summer and my personal thoughts are great for him and bad for the young people.  Jim, Thank You for setting the bar high for ALL breeders to try to measure up to.  For those reading, I am not even thinking about the hogs even though that bar was set extremely high as well.  I appreciate the example you have set as a breeder of just doing things RIGHT.  A great role model as a dad to a young daughter and son in law, along with an eighteen year old son of the examples we all can learn.  THANK YOU!!!
As for the boar, I think he follows his breeder in a lot of respects, you don't have to make any exceptions.  This guy covers the basics of square, stout, muscular with a balance look.  Jim says his dam is a really good female that stands out coupled with the fact she is really good in the crate as well.  108 SPI.  Great breeding boars come from great females!!!!